Length:
2 Days
Introductions to CubeSat
The CubeSat has very quickly become the "poster child" of the New Space Industry.
CubeSats are miniature satellites that have been used exclusively in low Earth orbit for 15 years, and are now being used for interplanetary missions as well.
From the original concept as an educational tool for university students, it has evolved, spread, and been adopted by emerging space nations, new industries, nonprofits, space agencies, and traditional aerospace and military companies.
The burgeoning CubeSat community can take advantage of a variety of payloads and mission applications that CubeSats can support at economically attractive costs.
In fact, launching a conventional satellite into space can cost anywhere between $10 million and $400 million, depending on the vehicle used. A CubeSat launch is around $40,000.
CubeSats also require shorter development times. This is key because analysts insist the new Space Age is about the ability to start projects quickly, without waiting too long. A conventional satellite requires very long development times, between five and 15 years. On the other hand, the first CubeSat of a constellation can be in space within eight months, and if we are talking about replicas, this wait is reduced to only two months.
CubeSats also tend to incorporate more modern, up-to-date technology. It's no secret that technological advances are moving at a dizzying speed. It is not difficult to find functioning satellites that use technology from more than 25 years ago.
CubeSats can be flown in swarms, capturing simultaneous, multipoint measurements with identical instruments across a large area. Sampling entire physical systems in this way would drive forward our ability to understand the space environment around us, in the same way multiple weather sensors help us understand global weather systems.
The thing about CubeSats that really stands out is their ability to carry out diverse missions in space.
For example, CubeSats can be ejected from the International Space Station (up to six at a time), deployed directly from a rocket or shot out of a spacecraft, depending on the mission.
Many feel that CubeSats are transforming the future of space discovery and education. Scientists, like those from NASA, are increasingly using CubeSats to look out at space — searching for water ice on the dark side of the moon, hunting for extrasolar planets that might be habitable, and exploring deep space. And they're also looking back at Earth — and assisting farmers in preventing crop damage and increasing yield.
CubeSats further provide a complementary connectivity solution to the pervasive Internet of Things (IoT) networks, leading to a globally connected cyber-physical system. Several future research directions for CubeSat communications, including Internet of space things, low-power long-range networks, and machine learning for CubeSat resource allocation.
Introductions to CubeSat Course by Tonex
Introductions to CubeSat is a 2-day covering the basic concepts and processes for
CubeSat analysis, design and developments. Participants will learn about the CubeSats or miniature satellites that have been used exclusively in Low Earth Orbit (LEO), and can be used for exploring and interplanetary missions. In the beginning,    however, they were commonly used in low Earth orbit for applications such as remote sensing or communications.
Nanosatellites are loosely defined as any satellite weighing less than 10 kilograms. The basic design of a CubeSat is a 10-centimeter (4-inch) cube with a mass of less than 1.33 kilograms (2.93 lbs.). CubeSats can also be designed to encompass two, three or six 10-centimeter units for more complicated missions. CubeSats shall also comply with a series of specific criteria that control factors such as their shape, size and weight.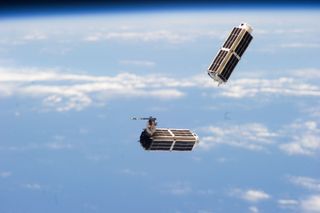 The standard CubeSat unit, a cube-shaped structure measuring 10x10x10 centimetres, has with a mass of somewhere between 1 and 1.33 kg (AKA as 1U). This modular unit is now multiplied and larger nanosatellites such (1.5U, 2U, 3U or 6U).
Course Topics
Fundamentals of CubeSats
CubeSats Use Cases
Satellite Types
Satellite Types and the Mass
Large satellites: More than 1,000 kg
Medium-sized satellites: 500-1,000 kg
Small satellites
Minisatellite: 100-500 kg
Microsatellite: 10-100 kg
Nanosatellite: 1-10 kg
Picosatellite: Less than 1 kg
CubeSat Launch Initiatives
CubeSats System Survey
Mission Models
Operationally Responsive Space (ORS) Rideshare
National Reconnaissance Office (NRO) Rideshare
International Space Station (ISS) Deployment Mission Model
Commercial Launch Services
Structure
Computing
Attitude control
Propulsion
Power
Telecommunications
RF
Antennas
Antennas
Thermal management
CubeSat Architecture and Design
CubeSat Reference Architecture CubeSats Systems Engineering Design Process
Model Based Systems Engineering (MBSE) applied to CubeSats
System Inputs
Desired System Outputs
System Level Architecture
CubeSat RF Engineering
Antennas
Communication Protocols
Launch Vehicles
CubeSat Dispenser Systems
3U Dispensers
6U Dispensers
Launch Vehicles Rockets
Development Process Overview
Ground Station Design, Development, and Testing
CubeSat Software Design and Implementation
CubeSat Testing
CubeSat Hardware Fabrication and Testing
CubeSat Software Testing
Mission Readiness Reviews
CubeSat-to-Dispenser Integration and Testing
Mission Operations
CubeSat Design Specifications (CDS)        
Range Safety Requirements
Licensing Procedures
Radio Frequency (RF) Licensing
Remote Sensing
Flight Certification
Orbital Debris Mitigation Compliance
Transmitter Surveys
CubeSat Components
Materials List
Environment Testing (Vibration/Shock)
693 Thermal Vacuum Bakeout Testing
Compliance
Safety and Reliability
CubeSat Verification and Validation (V&V)
Acceptance Checklists
Technical Reference Documents for CubeSat
Requirements Verification
CubeSat Cybersecurity Attacks and Mitigation
CubeSat Cybersecurity
Space Cybersecurity
CubeSat Networking, Systems, Technologies, Databases
CubeSat Defensive and Offensive Cybersecurity
CubeSats Vulnerabilities and Hackers
Securing Satellites and CubeSats
CubeSat Threat Models and Mitigation
CubeSat Case Study
Business Case for a CubeSat-based Earth Imaging Constellation
Tools to to Build a CubeSat
CubeSat cost and Components
Introductions to CubeSat
Request More Information
Please enter contact information followed by your questions, comments and/or request(s):
Request More Information