Length:
2 Days

Introductions to CubeSat
Small is the new big in satellite applications.
CubeSats are miniature satellites that have been used exclusively in low Earth orbit for 15 years, and are now being used for interplanetary missions as well.
We tend to think of satellites as huge spacecraft that tower over the engineers who build them.
But over the last 20 years, miniature satellites called CubeSats have been shaking up the space industry, making accessing space easier and cheaper for those who could previously not afford it.
Having initially been developed as educational tools, CubeSats are increasingly being put to active use in orbit for technology demonstration, scientific studies and even commercial purposes. And just like typical satellites, they are custom built to fulfil the specific requirements of their mission.
CubeSats take up reduced amounts of volume and mass, making them easy to load onto spacecraft as well as a low cost solution. Furthermore, the emergence of micro-launchers around the world, dedicated exclusively to placing small satellites in orbit, has forced the market to lower launch prices.
Consequently, CubeSats are now deployed for a multitude of scientific applications, such as:
Systems testing in orbit or biomedical research
Space observation programs
Monitoring radio signals from Earth
Earth observation including analysis of the human impact on agriculture, forest, geology and the environment
There are considerable advantages of modern CubeSats over conventional satellites – especially considering a large number of services can now be provided from space. Besides being more affordable and having shorter development times, CubeSats provide more up-to-date technology and provide greater data security.
There's also an important risk distribution factor with CubeSats. CubeSats usually operate in constellations, so the different satellites provide backup and redundancy to the services they offer. If a small satellite becomes unusable, for whatever reason, the project does not fail, but the other CubeSats can fill that gap while waiting for a replica to be placed in orbit to take the place of the damaged satellite — and all this in a very short period of time.
CubeSats also provide greater independence and control over a project. CubeSats open up space to companies that can now have their own small satellites without intermediaries and with absolute control over their services.
Most observers feel the space industry is moving toward a future with large constellations of small satellites capable of providing all types of services in large geographical areas or across the globe. This trend in turn implies new challenges for satellite coordination and management.
Some solutions will help optimize coordination between CubeSats in the same constellation so that satellites are able to communicate with each other for different purposes.
Introductions to CubeSat Course by Tonex
Introductions to CubeSat is a 2-day covering the basic concepts and processes for
CubeSat analysis, design and developments. Participants will learn about the CubeSats or miniature satellites that have been used exclusively in Low Earth Orbit (LEO), and can be used for exploring and interplanetary missions. In the beginning,    however, they were commonly used in low Earth orbit for applications such as remote sensing or communications.
Nanosatellites are loosely defined as any satellite weighing less than 10 kilograms. The basic design of a CubeSat is a 10-centimeter (4-inch) cube with a mass of less than 1.33 kilograms (2.93 lbs.). CubeSats can also be designed to encompass two, three or six 10-centimeter units for more complicated missions. CubeSats shall also comply with a series of specific criteria that control factors such as their shape, size and weight.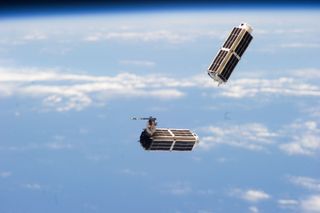 The standard CubeSat unit, a cube-shaped structure measuring 10x10x10 centimetres, has with a mass of somewhere between 1 and 1.33 kg (AKA as 1U). This modular unit is now multiplied and larger nanosatellites such (1.5U, 2U, 3U or 6U).
Course Topics
Fundamentals of CubeSats
CubeSats Use Cases
Satellite Types
Satellite Types and the Mass
Large satellites: More than 1,000 kg
Medium-sized satellites: 500-1,000 kg
Small satellites
Minisatellite: 100-500 kg
Microsatellite: 10-100 kg
Nanosatellite: 1-10 kg
Picosatellite: Less than 1 kg
CubeSat Launch Initiatives
CubeSats System Survey
Mission Models
Operationally Responsive Space (ORS) Rideshare
National Reconnaissance Office (NRO) Rideshare
International Space Station (ISS) Deployment Mission Model
Commercial Launch Services
Structure
Computing
Attitude control
Propulsion
Power
Telecommunications
RF
Antennas
Antennas
Thermal management
CubeSat Architecture and Design
CubeSat Reference Architecture CubeSats Systems Engineering Design Process
Model Based Systems Engineering (MBSE) applied to CubeSats
System Inputs
Desired System Outputs
System Level Architecture
CubeSat RF Engineering
Antennas
Communication Protocols
Launch Vehicles
CubeSat Dispenser Systems
3U Dispensers
6U Dispensers
Launch Vehicles Rockets
Development Process Overview
Ground Station Design, Development, and Testing
CubeSat Software Design and Implementation
CubeSat Testing
CubeSat Hardware Fabrication and Testing
CubeSat Software Testing
Mission Readiness Reviews
CubeSat-to-Dispenser Integration and Testing
Mission Operations
CubeSat Design Specifications (CDS)        
Range Safety Requirements
Licensing Procedures
Radio Frequency (RF) Licensing
Remote Sensing
Flight Certification
Orbital Debris Mitigation Compliance
Transmitter Surveys
CubeSat Components
Materials List
Environment Testing (Vibration/Shock)
693 Thermal Vacuum Bakeout Testing
Compliance
Safety and Reliability
CubeSat Verification and Validation (V&V)
Acceptance Checklists
Technical Reference Documents for CubeSat
Requirements Verification
CubeSat Cybersecurity Attacks and Mitigation
CubeSat Cybersecurity
Space Cybersecurity
CubeSat Networking, Systems, Technologies, Databases
CubeSat Defensive and Offensive Cybersecurity
CubeSats Vulnerabilities and Hackers
Securing Satellites and CubeSats
CubeSat Threat Models and Mitigation
CubeSat Case Study
Business Case for a CubeSat-based Earth Imaging Constellation
Tools to to Build a CubeSat
CubeSat cost and Components
Introductions to CubeSat
Request More Information